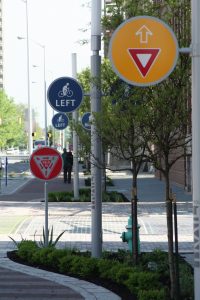 Firehouse Square, one of downtown's first residential developments, was constructed by Ryland Homes in 2001-2002.   A few blocks northeast from Monument Circle in central downtown, we are bordered by New York & Ohio Streets (north and south) and New Jersey & Alabama Streets (east and west).  Many of our town-home residents are the original owners. Our community includes graduate school students, GenXer's, empty nesters and retirees. We are proud of the sense of community we have, as we are not only neighbors, we are friends.
All homes in Firehouse Square are individually owned and therefore, if a home goes up for sale and/or rent, it is done through the current homeowner and their realtor. Check for current listings on Mibor, or drive through the community to check for any 'Sale'/'For Rent' signs in windows.
A few more facts about Firehouse Square:
Our community includes 11 buildings totaling 56 3-story units and a private ½ acre courtyard;
Each unit has either 2 or 3 bedrooms and either 2 or 3 full bathrooms; each unit has a half-bath on the 2nd floor (this floor has the kitchen and living/dining room);
Each unit has its own attached 2 car garage;
Homeowners own their property usque ad infero and usque ad coelum, subject to common area easements.  This means that unlike condominium owners, our residents are owners of their lot and property from the ground up to the sky;
We are self-managed and have an elected five-member board.   The board meets monthly and there is a yearly Annual Meeting; all homeowners are encouraged to attend these meetings;
Homeowner Association Dues are $375 and are paid quarterly.
Our History
The Cadle Tabernacle sat on Firehouse Square property during 1921-1968. With a front exterior modeled after the Alamo, and creating a stark contrast to other nearby architecture–like City Hall, just yards away, Cadle seated in excess of 10,000 people plus room for an additional 1,500 people in the choir stalls above. Hard to believe that meetings of the Ku Klux Klan, prize fights and dance competitions were held in the same space where Dr. Martin Luther King Jr. would later visit and speak on December 12, 1958. And the beloved Hoosier actress, Carole Lombard lead visitors in singing the Star Spangled Banner after a fundraiser on January 15, 1942, which turned out to be the last night of her life.